Putting the control in ctrl+z
Rewind your messages, media, and mistakes with the only messenger that protects your content from ex's, Apples, Googles, and Governments.

Take security to the real world with a distress beacon that sends your emergency contacts your location and mic input of your surroundings. We hope you use every feature of LiteWire except this one.
Ah yes, yet another messaging app to clutter your app drawer... so why use us?



We can't really claim anything technologically brilliant above the Signals and Wickrs of the world... none of us have computer science degrees, none of us went to top 10 colleges, none of us got anything but participation awards in life, and our lead developer lives by himself with his two rabbits. So why us? Because we are a small team so we've been able to implement every feature users have requested. In a tl;dr, here is what makes LiteWire unique:
★ Anonymous sign up, no email or phone number required

★ Delete any message from every user

★ Private content watermarks and screenshot protection

★ Distress beacon to let people hear you and know where you are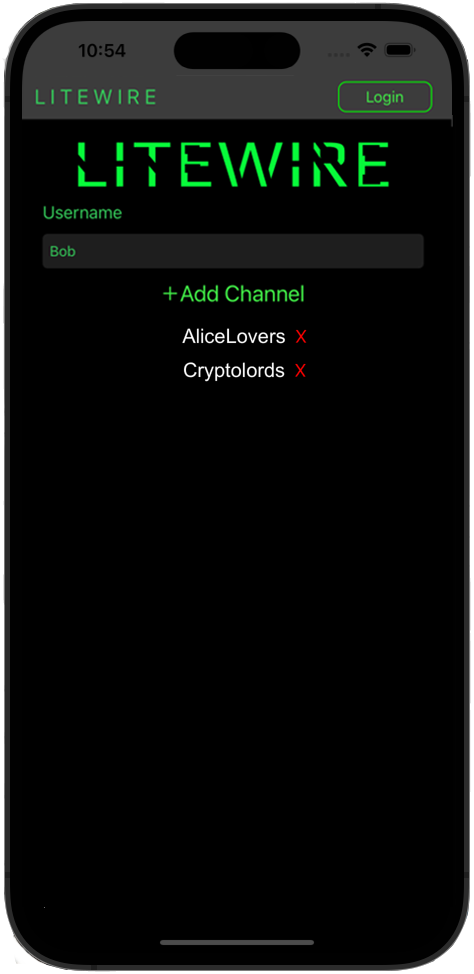 Cyber security and real world security
★
Anonymous signup:
all you need is a username you make up. Forget every other app that needs phone numbers! To find buddies, you can either enter their username or add a channel that you both share in common.
★ Messages are
end to end encrypted
so no one but you and your buddies can see your communications. Data is also encrypted at rest and only your biometrics can unlock it.
★ Launch a
distress beacon
to your close buddies, who will then receive your location and microphone recordings of your surroundings until you mark yourself safe by turning off the beacon.
Content Protection
★
Delete any message
, including media content, from all recipient devices.
★
Privacy watermarks
let you add user-specific watermarks that shows up on your private content to deter a recipient from nonconsensually sharing your stuff. These photos and videos are also uniquely encrypted on recipient devices and can only be viewed in LiteWire.
★
Screenshot accountability
for anyone who screenshots, which causes them to lose content they screenshot and the 50 messages before and after it. Users will be alerted as well.
★
Off-the-record messages
exist only in memory and will disappear after app is restarted.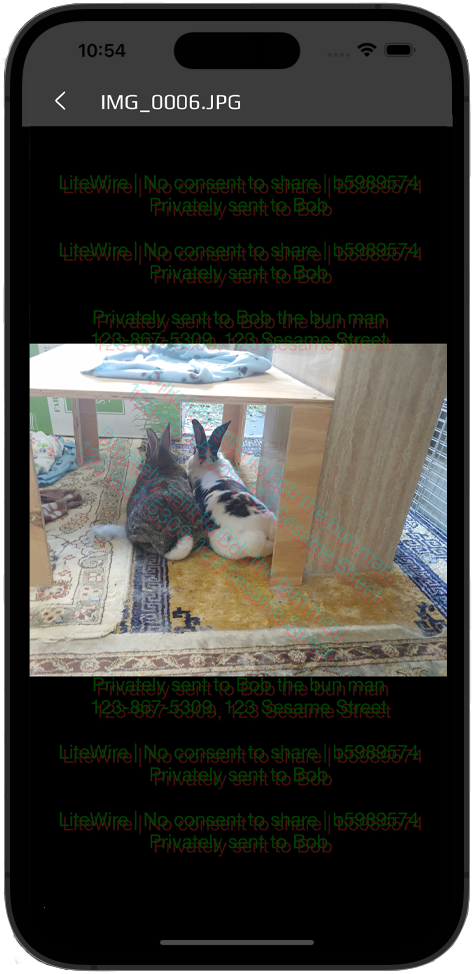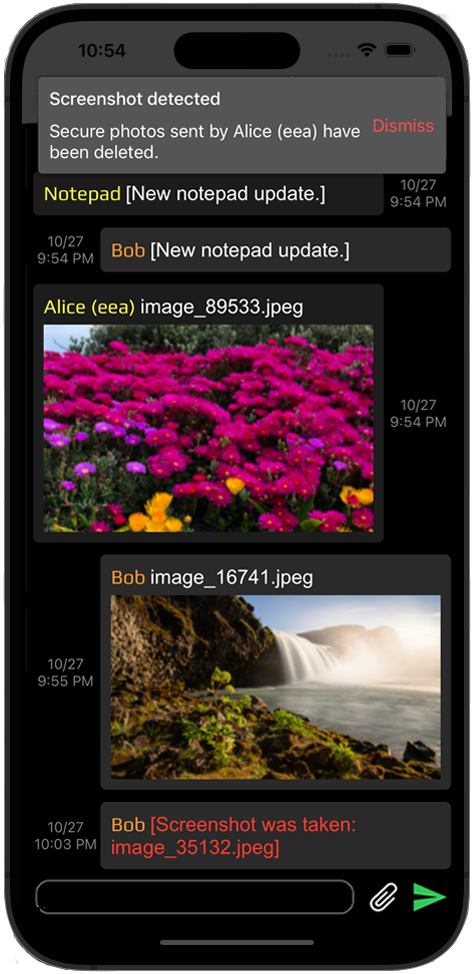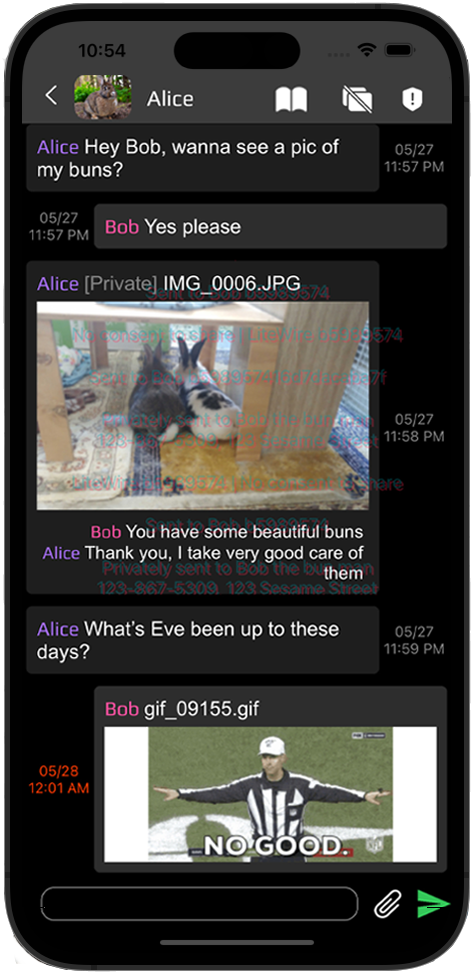 Find things easily
★
Search by subject:
After even one day, most people's messages just get lost in the chat history forever. LiteWire lets you tag any message with a subject, which you can then find by clicking the star icon in the search bar. This is the marriage of chat and email.
★
Search by date
: Not sure what you said, but you know roughly when the conversation happened? Search your messages by time in the format of mm/dd/yy. If you only know the month, just type mm/
The most fun you can have in a life-saving app
★
Stories
, which are e2ee and disappear after 24 hours.
★ What's better than
Wordle
? Wordle with friends where you choose the word and see all their stupid guesses! Simply click the paperclip button and hit Play.
★
Canvas
feature for doodling and editing other people's doodles to troll and peeve your friends.
★ A simple
notepad
in each chat allows everyone to view and add to a shared notepad in an easy-to-reach place.
★ Customize your experience with
font styling
:
- Make text *bold*
- Underline it with _italics_
- Cross things out with ~strike-thru~
- Color your text using PURPLEa color namePURPLE)
★
Free
. A handful of other apps have some of our good features, but charge you to play. No one wants to have to convince all their friends to buy a service just to talk to them. What is this, AOL from 1995?
LiteWire Webcam:
★ Go to
https://litewire.app/web.html
on any device you want to turn into a security/pet/webcam and click Petcam Mode before logging in. Use a unique username, because this is how you'll find your petcam from another device!
★ Call your petcam user and enter video call to see your stream.
★
End to end encrypted
viewing and sending of your webcam's stream. Forget the stresses of dealing with a provider that stores all your content on their own servers unencrypted, and charges you!
★ Receive webcam images from
motion detection
whenever something moves. Send the messages "[Motion Detect On]" and "[Motion Detect Off]" to toggle motion detection when you're away from the webcam.
LiteUp File Transfer:
★ Miss Firefox Send? Well go to
https://litewire.app/lu/
and enjoy encrypted file transfer once again!
★ Enter in a password that will protect your files with
end to end encrypted
★ Set a
download limit
for how many times your files can be downloaded.
★
Delete your files
whenever you are finished transferring them by going to your LU link.
★
Local list
of the file links you've sent for easy management.
★ Completely
private and anonymous
.
The most important and least interesting topic, security:
We designed this platform for the average Joe with a healthy amount of paranoia, so we aren't going to guarantee anything if you're a dissident in a totalitarian country contemplating betting your life on a messaging app. But the truth is, no one can. Our app is good enough for the everyday peon like ourselves. It is fully end-to-end encrypted and for someone to try to snoop on your conversations would take a prohibitively large amount of resources and money.
That being said,
here is a link to download our source code for iOS
, which includes the three main modules where all the logic behind LiteWire encryption and message handling works. We redacted the part where we derive the content encryption key that protects users' private content, for obvious reasons. The password to the zip file is litewire2023. LiteWire also includes an option to show network traffic in and out of the app, so you can see exactly what is being transferred and confirm that it is in fact end to end encrypted.
The following is a shortlist of security features of LiteWire:
End to end encryption using double ratchet elliptic curve, so every message is encrypted differently with forward and backward secrecy.
Chatrooms, usernames, and group names are hashed, so the server will never know what these are.
TLS security between clients and the server, on top of E2EE between clients.
Public user IDs are hashes made by the server of private user IDs, so spoofing someone else's identity is nearly impossible.
All media sent as private is encrypted with a secret device-specific key, making lifting it off the device difficult without reverse engineering.
Database is encrypted locally using a specially-drived unique key to each user, and no LiteWire content syncs to iCloud or Google Drive.
Server holds only information on your (hashed) chatrooms, username, last login timestamp, public key, and your userId, which is a hashed calculation based off your app-specific hardware ID. The point of the public key is so that when discovering a new buddy, you can immediately begin messaging them using these keys.
When a message is sent, it is saved as a text or binary file on the server. Once recipients download it, the file is deleted.
Video calls are performed using WebRTC on an embedded LiteWire webpage. These calls are peer-to-peer and end-to-end encrypted.
LiteWire collects crash logs which are anonymized so that all we receive are your app version and the crash info. Your LiteWire ID is not included, nor is any other uniquely identifying information.
FAQs:
Q: I'm getting "Encrypted content, press for options" messages. What is this garbage?
A: It is bug garbage. This happens because your app was unable to receive the decryption key. After messaging your buddy again and seeing a good text, you can long-press to request the undecryptable message be resent.
Q: I have a feature I want. Can you make it?
A: Yes. Email it to
droidrage@litewire.app
.
Privacy Policy and Terms of Service
LiteWire takes privacy seriously. This app is anonymous, requiring no sign-up. Data is end to end encrypted and user data is not logged, except for the app-generated data points mentioned above in the security section, which are the bare minimum necessary to make the service work. LiteWire will never harvest, share, or sell its data, which is not user-identifying. If you want your data deleted anyway, send an email to droidrage@litewire.app with your userId and a note to have your information removed.
By using LiteWire, you agree to not engage in malicious behavior towards other users. If you are being harassed, threatened, or extorted by another user, please contact raid00@litewire.app immediately. Deleting users will effectively block them from communicating with you unless you accept them again. You can also change your username and buddies currently on your list will remain, while those you delete will no longer be able to find you.